---
Get direct episode-emails | Recommended 3rd-party apps | Local Player | Apple Podcasts | Overcast App | Spotify | Google Podcasts | Amazon Music | YouTube | Instagram |
---
ShowNotes – Video Exclusives (coming soon)
---
Podcasters' Cross-promotion
The reason why I started this podcast in the first place was to offer my people a chance to find natural immersion into the language in a fun and interesting way. In keeping with this promise, I help people to give themselves permission to feel more confident with their language skills, and in so doing giving themselves the time and space to develop. As a cross-promotional episode – it invites both of our audiences (guest's and host's) to benefit from our insights, and collective experience informed by over 21 years of English Teaching.
Guest for today's episode Jorge Robleto
Jorge Robleto is a TESOL certified English teacher from Edmonton, Alberta, Canada now living in Germany. During his time in Germany, he has worked with dozens of Business people in order to help them reach their English speaking goals. When people ask him why he calls himself "the Canadian" the answer is: because the ideals of Canada represent what my business is about. Respect, openness and empathy. A respectful attitude, an openness to new people and ideas, and empathy towards my fellow human beings. You can learn more about his services by visiting his website: the-canadian.com .
---
Get direct episode-emails | Recommended 3rd-party apps | Local Player | Apple Podcasts | Overcast App | Spotify | Google Podcasts | Amazon Music | YouTube | Instagram |
---
---
---
"The English Coach Podcast – never intentionally takes a prescriptive, patronizing, or condescending stance to the adult learning experience, but is rather driven by inclusiveness – of people, approaches, personal experiences thoughts and ideas. This show episode is neither a formal lesson nor a substitute for such but aims to supplement the adult learning experience in a true-to-life way. The show is independent and self-sponsored – brought to you by me – a practicing language Trainer / Coach – and draws on a whole gamut of tools and tips in support of providing information, entertainment and what I like to call sustainable language acquisition in an authentic, relatable, and vastly collaborative – human way."
---
---
English Coach Podcast – Living the Language – iAntonio
Thanks for listening, looking forward to hearing from you and bye for now.
---
Sustainable Language Acquisition = Nachhaltiger Spracherwerb.
---
English Training Englisch Coaching
---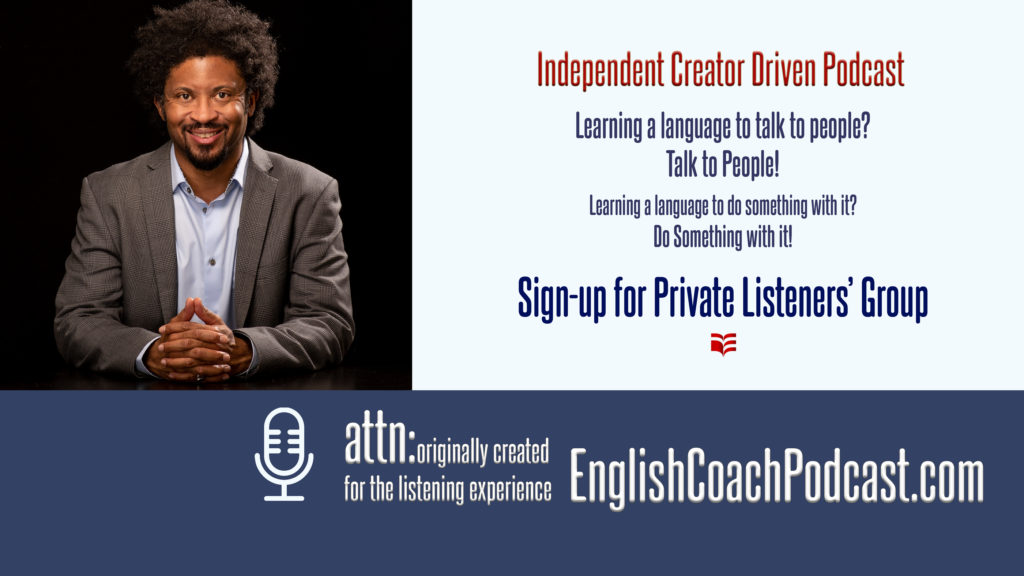 ---
---