Episode 25 – It truly is with great pleasure that I'm able to launch Season Two of The English Coach Podcast – today.
Shownotes: English Coach Podcast – Living the Language
---
| Apple Podcasts  | Spotify  | Google Podcasts  | Amazon Music  |  YouTube  | Local Player |
For me it's a milestone, because like many things these days it also got off to a rough start. It is as I've acknowledged before, not always the easiest thing to put your voice out there – to the scrutiny and device of mass public media and I wanna quickly take this opportunity to thank all the wonderful people who've helped with season 1. When I started planning to do this Podcast, and got my first mic in May of 2019, I had no idea how far this would go – I said it. A media offering positioned, to add the icing on the cake so to speak – to my Overall Training Practice.
The launch of this episode speaks to the first three motivations that drive this initiative still – there are some more. The first one is in keeping my promise to offer sustainable language acquisition to my present and past course participants – and anyone else who's interested – in a real way – the topics are real, the contexts are real and so are the people who participate. The second and third motivations – have to do with what I like to call this fresh and exciting "democratisation of the learning experience" and the idea of DIY. Do it yourself – a perfect opportunity, accessible to anyone who wants it – now more than ever before.
We are all human beings, no more and no less – We ought to all be a little more gentle to ourselves – especially in this space – the idea of perfect imperfection is one that I continue to celebrate also in my photography practice – which is itself – also a self-taught skill – just like my podcasting. So all in way or saying – what exactly? – If I can do it, you can too.
Today we start in English then finish off in German – so please bear with my "accent". The only likeness of perfection that I would ever promise would be in my own language.
The episode approaches answering the question "Who is it for?". The format – inspired by my old friend Johanna, and features again our beloved "protagonist" – this time embodied by the lovely and talented Steffi.
With a small win, is always a good way to begin.
Feel free to check out the shownotes for this episode at www.trainingtree.de/podcast or www.englishcoachpodcast.com. Like it if you like it and if you don't, lie to me – just kidding – but still – feel free to share it with a friend, post a rating, or better yet – give meaning to the things you think about the show, by using the feedback form to tell me personally what you think – this will all help it to help you – as it is intended to do. Subscribe only if you feel like – so you know when there's a new episode available.
Thanks for listening, looking forward to hearing from you, and – bye for now
---
---
Show Host: Ian Antonio Patterson: All episodes | your feedback |
---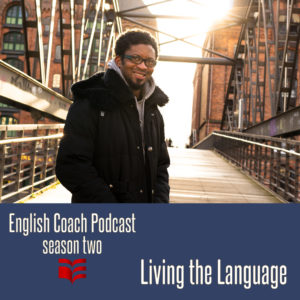 ---
Gehört werden! >> direkter E-Mail-Kontakt, Show-host
---
---
---
---
---
---
---
---