---
Episode 55 – As a Trainer and Coach of English Language for Work – my goal is still to enrich the adult learning experience – in a fun and interesting way. Today we do it in German (primarily) because that is the native language of most of my course participants.

Published as the second in June 2021 to commemorate Pride Month – and in celebration of inclusion, the episode dives into conversation on ideas and facts shared in a recently published book "Berufen statt zertifiziert – neues Lernen neue Chancen" by a dear friend and colleague of mine Dr Anja C Wagner – who dare I say shares at least some of the that values I do.

Ian Antonio Patterson – 2021
| Apple Podcasts | Spotify | Google Podcasts | Amazon Music | YouTube | Local Player |
Unser Gast für heute: Dr. Anja C. Wagner – Professional website | LinkedIn | Instagram
Sie beschäftigt sich mit globaler Transformation im digitalen Wandel – gilt als kreative Trendsetterin und bezeichnet sich selbst als Bildungsquerulantin. Inhaltlich fokussiert die Autorin auf User Experience, Bildungspolitik, Arbeitsorganisation und unsere Zukunft in einer vernetzen Gesellschaft – und führt diese Themen synergetisch zusammen. Mit ihrem Unternehmen "FrolleinFlow – Institute für kreative Flaneure" bietet sie Studien, Vorträge, Consulting und verschiedene Onlineprojekte an. (Teilzitat)
---
Episode 55 – supporters
Andy Beck – Thank you for sharing a bit of your soul with the musical support and faithful involvement, especially for the special rendition for this episode: Instagram | Website | YouTube | Song-cover release "I see Fire"
---
This one goes out to – fellow independent podcasters, trainers, coaches and creatives – the inclusiveness of the show speaks for itself – and helps to make it easy for me – to take my usual relaxed accessible human approach, to your learning experience.
English Coach Podcast – Living the Language – iAntonio
Thanks for listening, looking forward to hearing from you and bye for now.
---
Sustainable Language Acquisition = Nachhaltiger Spracherwerb.
---
Full Episode on YouTube (audio listing)
---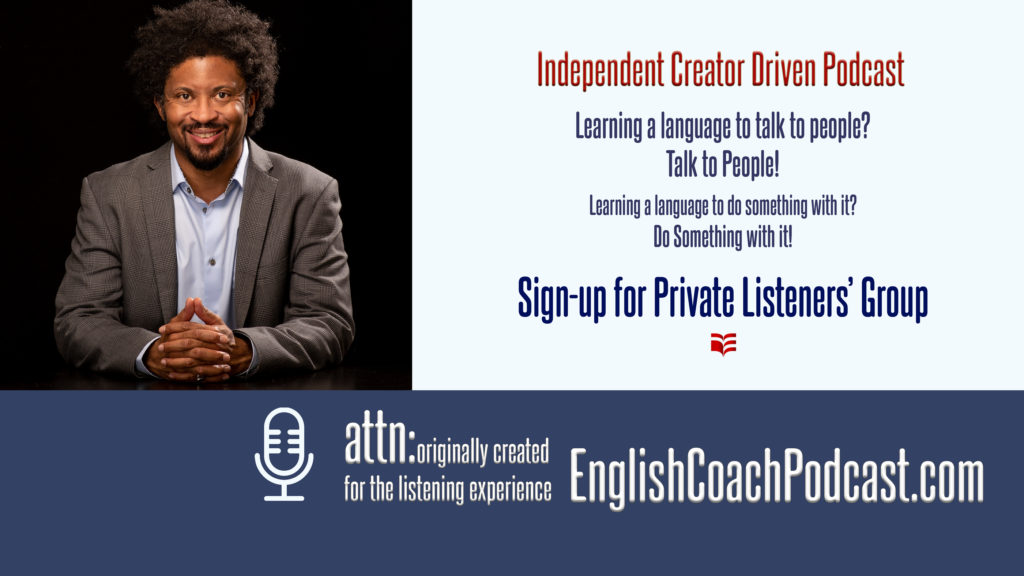 ---
---