---
Episode 46 – Getting – meaningful, non-pretentious usable feedback that can actually help to improve my English courses, this show and the overall learning experience of all my course participants – and other fans of the English Coach Podcast – can be really challenging.
| Apple Podcasts  | Spotify  | Google Podcasts  | Amazon Music  |  YouTube  | Local Player |
Shownotes: English Coach Podcast – Living the Language
---
Showguest: Guido Erich Fritz Lammers
I'd eventually rationalized it down to perhaps being a cultural thing, and still I asked myself – "Why is it so, and could there be other implications on other things that have nothing to do with me, my practice or my show?"
That is not a question I would ever attempt to answer fully on my own – so in today's episode we approach the question from different perspectives – informed chiefly by the wisdom of our experiences.
Every trainer, teacher coach wants to be inspirational – transformative even – at least sometimes. Well – with all due respect and the highest regard for today's guest, I would like to dedicate this episode to a few past course participants and guests who have themselves been particularly inspirational – and transformative even to me and / or the show recently. You know yourselves and the names for today are Marko, Benedikt, Ann, Anika, Simone, Louis, Rebecca, Camila, and Gary. Independent and self-sponsored means that I get to extend a world of gratitude to my people – the ones who really matter and mean it.
Today's show is a rare random mix of German and English – if you cannot handle it, then maybe this is not one for you.
With a small win, is always a good way to begin – so without further ado our guest for today – my past course participant and friend Guido.
Feel free to share the show – with a friend. Give meaning to the things you think about the show, by using the feedback form to tell me personally what you think. This will all help it to help you – as it's intended to do. You can even try-out the new voice-mail function on the show page or anywhere you see feedback.
Follow the show – only if you feel like – from anywhere you listen to podcasts – so you know when there's a new episode available.
Or better yet – sign-up to join the "Private Listeners' Group" – for the more personalized listening experience.
Thanks for listening, looking forward to hearing from you and bye for now.
---
What's in it for you?
Everything and nothing.
---
Sustainable Language Acquisition = Nachhaltiger Spracherwerb.
---
---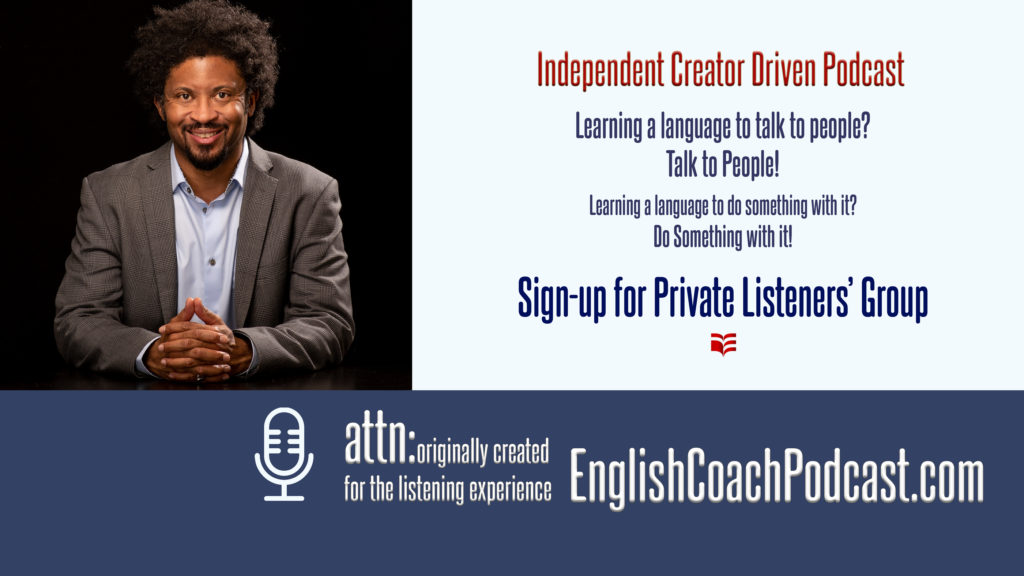 ---
---