---
Episode 27 – Marianne is helping me in more ways than one – to diversify the whole Language Learning Experience that I am offering to you. More on that later – so be sure to stay tuned in for what's to come.
Shownotes: English Coach Podcast – Living the Language
---
| Apple Podcasts  | Spotify  | Google Podcasts  | Amazon Music  |  YouTube  | Local Player |
---
In this Episode 27 of the English Coach Podcast – the third in Season 2 and the first of perhaps 4 Episodes in a new Poetry Series – we'll be focusing in parts on the melody of Language. This is not to be taken lightly, the series will help you to be more receptive to these flows – and can make a world of difference between understanding – being yourself understood – or not at all.
For this series and this episode we take a small step away from the sometimes dull and monotonous drag of the language drill. We take a step away from grammar puzzles, away from the abstract and the automated – and give ourselves the space to learn to perceive and hopefully articulate – the rhythm of language that lives in all of them.
Showguest: Marianne Idrac
Readings, works from: Victor hugo and Le dormeur du val, rimbaud
I do prefer to take the people approach to my Adult training, coaching and podcast practice. Even for my whole Online Training Practice over [here] at TrainingTree.de – my aim is to encourage use of the many tools at hand – ranging from independent media, human interaction, formal and informal classes, paper notebooks, language-apps, art, personal hobbies and reading – that all help to enrich our overall language learning experience. Still the aim is to keep it organic – and naturally receptive to context and purpose – as it quite likely differs in every single language exchange. Check out my previous episode 18. Most of us are learning a language to talk to people – so I will always be the one to invite you – on any language learning journey to talk to people. By the end of this episode 27, you will have been given – a set of true to life tools and tips – not only having to do with poetry – but that have been shown to work for others – as well as a better feeling, aptitude or awareness that will help you in the future.
---
---
---
Show Host: Ian Antonio Patterson: All episodes | your feedback |
---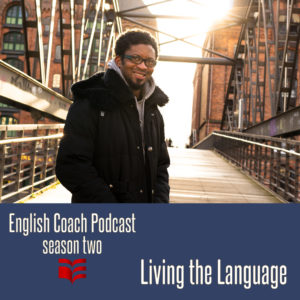 ---
Gehört werden! >> direkter E-Mail-Kontakt, Show-host
---
---
---
---
---
---
---
---