---
Episode 52 – of the English Coach Podcast presents a quick dive into Jamaican Culture. As a Trainer and Coach of English Language the goal that I have given to myself here is to enrich the adult learning experience with real conversations, real topics and experiences of real people – in a fun and interesting way.

Ian Antonio Patterson – 2021
| Apple Podcasts  | Spotify  | Google Podcasts  | Amazon Music  |  YouTube  | Local Player |
A seasoned practitioner in dance, artistic director and producer of theatrical works, performance coach, award winning actor and the current director of Arts and Culture at Jamaica's own University of Technology – shares with us. We enter into what I would call seminal discourse from our lens – on the approach towards establishing equitable recognizable standards for Jamaican Dance Genre.
Showguest: Philip Clarke – Professional website | Philip's own podcast
Ein erfahrener Praktiker im Tanz, künstlerischer Leiter und Produzent von Theaterstücken, Performance-Coach, preisgekrönter Schauspieler und derzeitiger Direktor für Kunst und Kultur an der University of Technology Jamaica – teilt mit uns. Wir treten in einen, wie ich es nennen würde, zukunftsträchtigen Diskurs ein – über den Ansatz, klar erkennbare Standards für das jamaikanische Tanzgenre zu etablieren.
---
Episode 52 – supporters
Andy Beck Personal: Instagram | Website | YouTube. | Song-cover release "I see Fire"
Backing Music: Jamaican Electro by Easy of OMG Business Network LTD
Tribal-fusion rendition for preview : Anna Elva
This one goes out to – Marko, Benedikt, Michael and Yusef all course participants here in Germany, and to Lorraine an avid listener from all the way over there in Kingston city Jamaica. This small token of gratitude goes out today – because I do this for people – and some souls help to make – and keep it easy for me, to take my usual relaxed accessible human approach, to your learning experience.
English Coach Podcast – Living the Language
---
Thanks for listening, looking forward to hearing from you and bye for now.
---
Sustainable Language Acquisition = Nachhaltiger Spracherwerb.
---
Published Episode Preview featuring Anna Elva
Full Episode on YouTube (audio listing)
---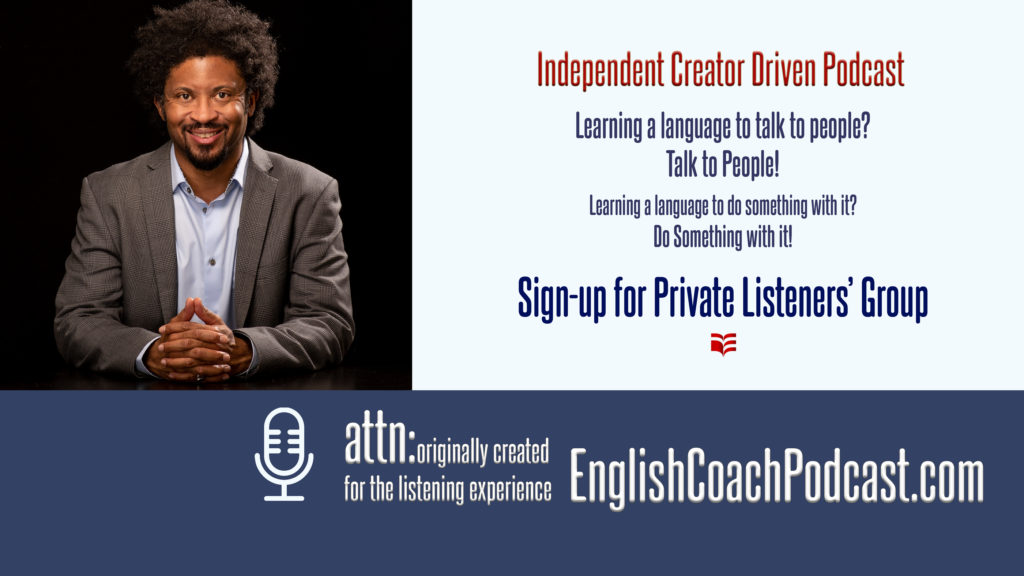 ---
---