Episode 79
---
| Get Episodes Directly by Email | Recommended 3rd-party apps |
---

---
Language Contrasts
Fifteen Voices, Three Perspectives, One Vision: Episode 79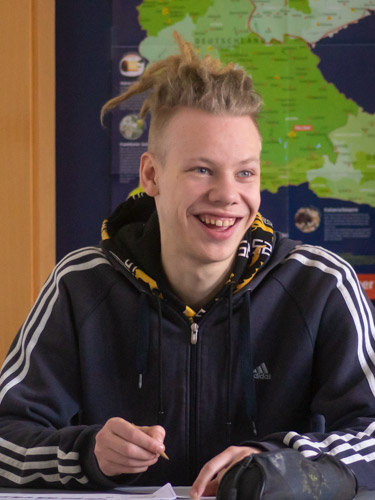 ---
In today's episode, I will take you on a learning journey. One which gives us privileged insight into the shared learning experience from three perspectives. Today's episode 79 is mostly a celebration of the learning journey of real course participants – who were themselves generous, and brave enough to speak candidly on "The European Day of Languages 2022"….. This episode today shall also be punctuated with the learned insights of special guests:
Annika Kriegsheim, Klinische Psychologie, Pädagogische Leitung – (00:24:43) , (01:15:23) , (01:48:09).
and
Uwe Müller, Kfz Schlosser, Kfz Ingenieur, Pädagogik und Schulleitung – (01:05:16) , (01:30:12)
– qualified and experienced educators in fields of Clinical Psychology, Pedagogy, Mechanical Engineering and in as we say in German – Schulleitung und Pädagogische Leitung .. These intermittent insights weaved randomly into the fabric of this episode – were gathered in parts under separate cover and might themselves feature in full length – in later episodes.
Code-switching, between my native language English and my second language German – will feature prominently – so brace yourself. An authentic self-sponsored approach also means – finding peace with imperfection in parts – not all the recording circumstance were ideal – for that you can take comfort in the thought that what you are about to hear was neither scripted, censored nor in anyone's special interest – staged for effect.
---
The English Coach Podcast – Living the Language is still not really about grammar puzzles and free lessons – but, is intended to inform educate and entertain – around the topic, and the way less abstract and more authentic – from the lived experience of people…
---
Main Guests – Course Participants (in order of 'appearance')
Amina Abderrahmane (00:00:03 & 05:41), Kristijan Ahmeti (00:13:44), Nithia Nanda Schnittka Payano (00:29:06), Jin Ui Kim (00:41:42), Ali Diab (00:51:18), Deniz Aydin (01:08:33), Leon Schwamberger (01:12:25), Mahmoud Moued (01:18:38), Jenny Richter (01:25:28), Mohammad Mohammadi, Zarah Mohammady (01:35:21), Ahmad Saloum (01:40:52).
Nationalities Represented
Algeria, Dominican Republic, Serbia, North Korea, Syria, Turkey, Russia, Afghanistan, Germany Jamaica, Sweden.
---
I am still committed to doing proper justice to my guests, and to you. Everyone speaks from the wisdom of their own experience – for themselves, and we are – in true human fashion allowed to change our minds. My preferred approach here is to freely converse with ideas in a non-scripted way – and to present you with more meaningful long form content – that you can download for free – listen to, pause for reflection, and revisit – in your own sweet time.
The episode is presented to you in association with iAntonio.media – and from the official showpage at www.EnglishCoachPodcast.com – you can subscribe with your preferred podcast player, like comment, and share the episode as you wish. On the shownotes page for the episode 79 you can also find fuller credentials of the show guests, all associated links, exclusive videos photos, feedback channels and the like.
---
---
---
---
Episode 75 (lead up to 79) – 26.9.2022
Mid September is relative, but I think that there is no better date to resume the show than this – the 26th of September 2022 – European Day of Languages.
The reason for this episode is twofold – it exists to reassure you my few but faithful listeners that as promised, the show running again, AND to announce that on account of the aforementioned developments – if you are a learner of English as a Second Language it will now be easier for you to realize significant improvements in your fluency and confidence with the language starting today.. As usual – no abstract Jack and Jill went up the hill stories and grammar puzzles – but real conversations with real people on real topics – and an opportunity to strategically, purposefully act – towards achieve the sovereignty – in this – perhaps a second language – that some of you are reaching for.
As usual the show is open to for everyone who likes it – many people are just nosey or just like the topics – you are interested in even more compelling topics – you are also free to check out the less conservative little sister of the English Coach Podcast – just check out www.LifeisFeeling.com.
So then – After a well-deserved break – and new wind in my sails so to speak – you might be asking yourselves how do I do this. How do I start today. How do I also get of these fresh powerful gusts of wind in my own sails… All you have to do is continue listening to the show, and as a first step – go ahead and sign up to get a little more – than what I usually give away to the public media channels – and simply sign up by visiting www.EnglishCoachPodcast.com – and join what I like to call the "Private Listeners' Group" or if this what you are hearing right now is enough for you – simply subscribe in your favourite podcast player – Apple podcasts, Spotify, Google podcasts, Amazon, YouTube, Stitcher, wherever (see recommended apps or above) – The show is not hidden behind the gates of anyone's walled garden – but open to everyone..
Interesting fact – while I am not a linguist – the word voice and the word vote – are in the German language one and the same – "Stimme". The word "Stimmung" – also appears to be close – and can be translated to mean mood, sentiment, atmosphere, vibe, morale, tune, temperament, disposition, que, feel – among other things…
Podcasting is voice (and choice), not only mine but also yours. The free media – is a pillar of any functional democracy – to my mind especially independent media like this. Surely this line of thinking is perhaps vulnerable to spirited correction – but it is significant – on this day and I always encourage anyone – who finds themself in a privileged position, where they can feel free to express and share their voice in a meaningful way – to do so.
This is me a human being talking to you another human being – not some abstraction or ads machine spewing sweet nothings to influence and hijack your time and autonomy – your vote, your money and your "Stimmung" – leaving you feeling drained, inadequate, and disenfranchised…
The tradition of independent podcasting that I have chosen to follow together with my cat called Kitty for the last three years is an uplifting choice – that I have the liberty to offer to you. A complement to the rich tapestry of other languages, cultures and expressions being celebrated here today on European day of Languages.
Informal authentic – and inclusive, deliberately personal discourse – on a diversity of topics as they relate to the Adult Learning Experience.
This season promises to be absolutely fantastic!
And as I always say – with a small win, is always a good way to begin. Looking forward to hearing from you and – bye for now.
European Day of Languages
---
English Coach Podcast – Living the Language – iAntonio
Thanks for listening, looking forward to hearing from you and bye for now.
---
Sustainable Language Acquisition = Nachhaltiger Spracherwerb.
---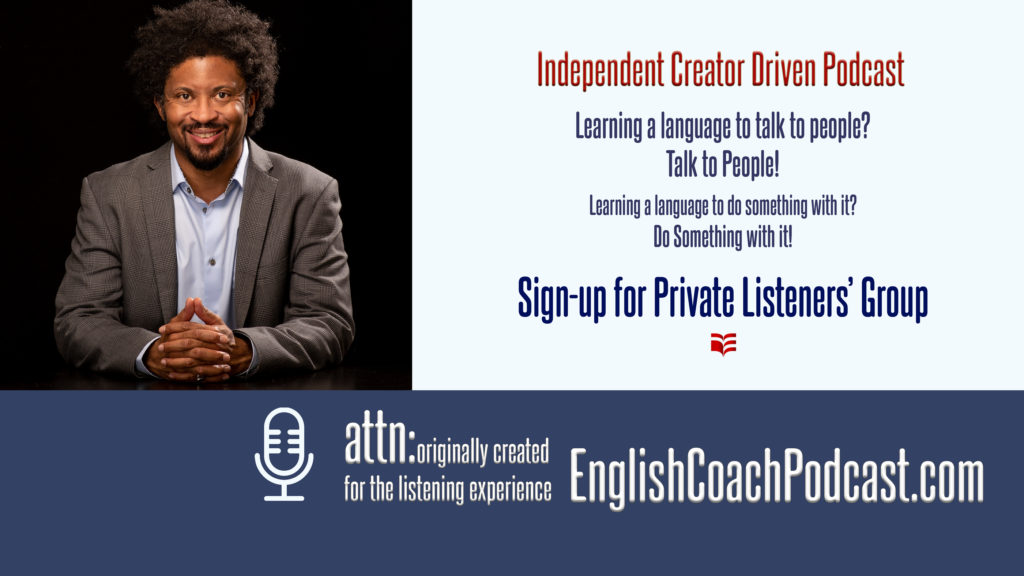 ---
---