---
Episode 31 – If you are learning a language to talk to People – talk to people. Today's show is in German (my first freestyle =) ). I always encourage all my listeners, learners, participants, and subscribers – or anyone learning a foreign language – to give themselves the space to sometimes to improvise and to recognise – that many things in life come down to the art of it.
Shownotes: English Coach Podcast – Living the Language
---
| Apple Podcasts  | Spotify  | Google Podcasts  | Amazon Music  |  YouTube  | Local Player |
---
It really is all about Finding your Flow – and this Episode 31, the third in the poetry series hopes to help you – to be a little more receptive to that – in a meaningful way. This episode of the English Coach Podcast – is self-sponsored – and takes my usual relaxed, accessible, human approach – to your learning experience.
---
Showguest: Dominika Otlewska-Dräger – Works
---
Our guest for today is also an old friend and past associate – who has helped me to serve Adult Learners of German in various Firms in Berlin. She also took part in a previous Episode "#23 SURVIVING It".

As a graduate of Literature and Cultural Sciences – Humboldt University Berlin – graduate of acting of Reduta-Berlin Acting school for Theatre and Film – she currently pursues a PhD in the Faculty of Cultural Sciences at the esteemed University of Viadrina FFO.

Short second interlude for the episode today – a poem by Heinz Erhardt. BONUS at end – first reflections on a poem by Hermann Hesse – "Sprache".

The aim is as always – to enrich your overall language learning experience. SEE Article – DIY – Englisch – DE
Show Host: Ian Antonio Patterson: All episodes | your feedback |
---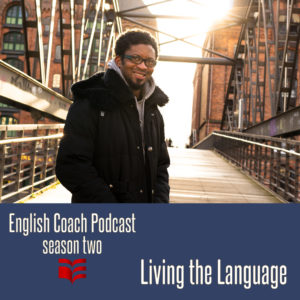 ---
---
---
---
---
---
---
---
---