---
Episode 51 – The Democratization of the Learning Experience means many things to many people and is a concept that has featured prominently on my show since the very beginning, like a pillar of purpose. It's a fresh and exciting place to be, and the question is still – what will you do with it – with the knowledge of the world – in the form of a smartphone – in your pockets?

Ian Antonio Patterson – 2021
| Apple Podcasts  | Spotify  | Google Podcasts  | Amazon Music  |  YouTube  | Local Player |
You get to use the tools and the access you have – to play an active part in choosing what or who accompanies you on your learning journey. And I get to follow through with what I like to call my usual relaxed accessible human approach – to your learning experience.
Guest Interviewer: Estafania Fernanfez. LinkedIn, Meetup – Business Model RE:public,
Musical contribution (01:53:20 "The Irish Dance"): Andy Beck Personal: Instagram | Website | YouTube | Featured-song Lyrics | Special Episode #39 – on Folk Springs Eternal book release
For this the launch of SEASON 4, I will be Interviewed on my own show by none other than the illustrious – Estefania Fernandez – an educational entrepreneur with a strong sense of social responsibility – woman of action whose claim to fame speaks for itself. I also want to take this opportunity to extend a special shout-out to all the show-guests who have accompanied me on my learning experience – which has in and of itself come to be known as the "English Coach Podcast". This is a heartfelt token of gratitude – to all the show-guests AND LISTENERS who have in fact helped me here – to meaningfully and purposefully – take ownership of my own voice – by giving it away. If you are new to the show and are interested in knowing who these people are – see below
This still fresh and exciting – democratization of the learning experience also means that all the sometimes – struggling independent Trainers and Coaches out there get to make their own stage. Please support them. This show has always been about one human being talking to another – deliberately personal, inclusive and unapologetic of all the perfect imperfections that make all of us the wonderful works in progress that we are. The show is still for the most part self-sponsored and independent – open to everyone but not for everyone. I am a Trainer sometimes a coach – and in keeping with the tradition of podcasting that I've elected to honour, I still want you to feel, that this show is by people for people – and that with a small win, is always a good way to begin – do enjoy the episode
---
Show Guests – Seasons 1 – 4
Olga Miller , Said el Amir , Lydia Grm , Nathalie Claude , Clotilde Dauchy , Pia Schnackenberg , Philip Clarke – First , (Second) , Sasha Bondar , Alexander Klebe , Dr Anja C Wagner , Dr Jennifer Reinecke, Dr Christian Reinecke , Dr. Mark Jacob , Philip Zilfo , Marianne Ildrac , Jennifer Reinecke , Jennifer Roch , Abba Lang , Dominika Otlewska Dräger , Andy Beck , Anna Royon Weigelt , Farida Bissinger , Sandra Loeb , Gary Lim , Dr Rebecca Waldecker , Akshay Bhattacharjee , Guido Erich Fritz Lammers , Estefania Fernandez , Elena Zander (episode 53 – coming soon)
English Coach Podcast – Living the Language
---
Thanks for listening, looking forward to hearing from you and bye for now.
---
Sustainable Language Acquisition = Nachhaltiger Spracherwerb.
---
---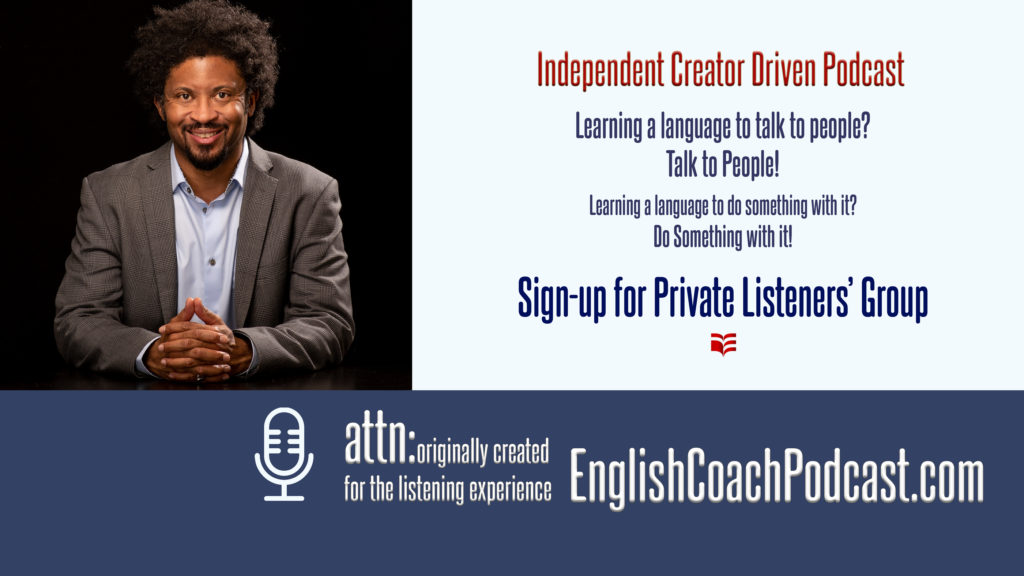 ---
---